---
Christmas Parties
Christmastime
As is now traditional for this time of year, the first 2-3 weeks of December will be dominated by Christmas Parties.  Work parties in particular, but also Christmas parties for various social groups and societies.  Both our Six Panoramic Restaurant and our River Bar Steakhouse make excellent venues for such parties.  Additionally, we've put on a number of festive cocktails for your enjoyment over the Christmas Season.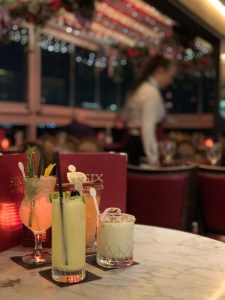 However, this all ends a few days before Christmas Day itself as these few days are typically considered a more family oriented time.  Many people travel to see relatives, so will not be around town and available for parties.  And as a result most restaurants close for a few days.
While perfectly understandable, we at the Varsity Hotel can empathise with those working unsociable hours or atypical shift patterns.  Plus, we can appreciate that even for a Christmas family gathering it can often be a lot easier to eat out.
So we're happy to announce that our Six Panoramic Restaurant will be open on Christmas Day.  And we have prepared a lovely 4-course menu for a traditional Christmas meal.  Please note that this will be the only menu served on Christmas Day, so booking ahead will be required.