---
Spring is here, Summer is near and the news regarding you-know-what is generally good.   Cases are down.  Indoor hospitality venues such as our own Six Panoramic Restaurant and the River Bar Steakhouse are open once again.  Things are looking up in this country.
Of course the problem with being ahead of the curve is that other countries are a bit further behind.  Including many places that Brits like to visit for a summer holiday.  But if a summer holiday abroad seems dubious this year, there's an easy solution.  Come spend some time in Cambridge, and stay at the Varsity Hotel.
City of Architecture
There are many popular tourist destinations and highlights across Britain.  The Lake District.  The Cliffs of Dover.  Stonehenge.  And there's always London.  But Cambridge stands out among them – peculiar and unique, as it always has been.
For Cambridge is a city full of history, packed full of sights of interest to visitors.  Yet most exist within easy walking distance of a compact, medieval city centre.  While it's true that there's more to be seen in say London, getting around the capital can be a stressfully painful sprint.  Getting around Cambridge is instead a relaxing stroll.
Without doubt the highlight of the Cambridge experience are the various University Colleges.  Cambridge University has remained in almost constant operation for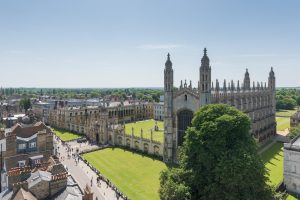 over 800 years.  During that time various Colleges have grown and expanded, and new ones have been founded.
The result is an eclectic collection of architectural styles built centuries apart.  Yet practically stacked on top of each other.  Medieval and Renaissance; Neo-Classical and Gothic; Regency and Modern.  All within a few minutes walk of each other.  The standout highlights include: the world famous King's College Chapel; the iconic Bridge of Sighs within St. John's; and the peculiar yet exquisite Mathematical Bridge in Queens' College.
City of Activity
There are also several pursuits or activities to enjoy in Cambridge which are either unique or extremely rare.  Some, such as the May Bumps and May Balls unfortunately won't be happening this year.  But simply wander down a street looking vaguely like a tourist and you'll be offered a punting tour.  Taking a chauffeured trip up the river accompanied by expert local guides is a great way to see the Colleges almost from the inside, and is a treat not to be missed.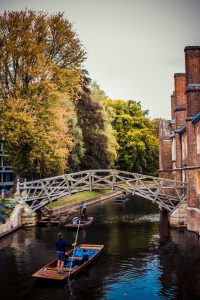 Nor is a visit to the University Botanical Gardens – one of the oldest and most historically significant such gardens in the world.  The trees that inspired a young Charles Darwin to wonder still stand.  And still challenge the minds and imaginations of new generations of students.  As do the various museums dotted around town and nearby environs.  From the University run Zoology Museum; to the private Fitzwilliam Museum; to the spectacle that is the Imperial War Museum at Duxford, less than 30 minutes drive from Cambridge.
All in all, Cambridge has plenty of interest for a weekend getaway or domestic holiday.  And all sights are best seen from the Varsity Hotel.  We look forward to seeing you soon.