---
Visitors to this country are frequently impressed by how green it is.  Not that this is too surprising given its well deserved reputation for rain.  And nothing in either respect when compared to a luscious tropical rainforest.  But often startling nevertheless.  This is probably best showcased in the British love of gardens.  We at the Varsity Hotel Cambridge share this love.
City of many Gardens
However, what constitutes a "garden" is quite variable in both style and content.  A traditional English garden emphasises an immaculate green lawn set aside beds of colourful flowers, and is intended to be admired for its looks.  Quite often at a distance.  In the various University Colleges here in Cambridge it is made quite clear that the grass is for looking at and not walking on.
Quite the opposite is true of the various parks, pieces and other green open spaces in the city.  There the wide open grass is to be played on and enjoyed.  Go into the suburbs and you might come across a commons area filled with dozens of little vegetable gardens called allotments.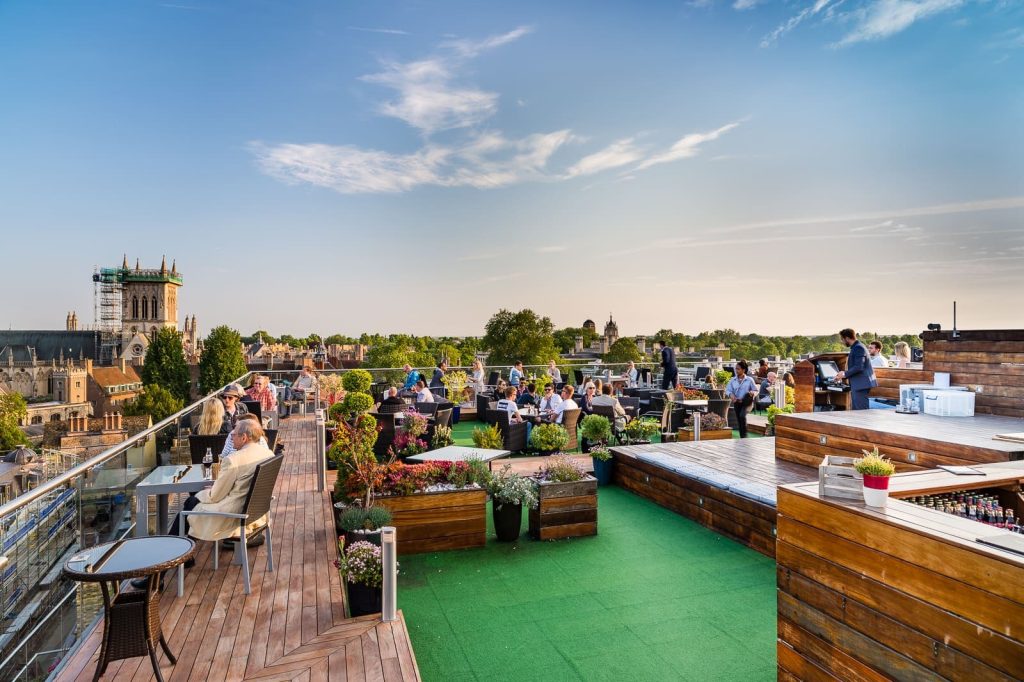 At the Varsity Hotel we have our own take on what constitutes a garden as showcased by our beautiful Roof Terrace.  The emphasis there is not so much on the plant life as the social life.  Our gardens are a place to relax with friends, catch some sun and enjoy a cocktail or three.
But without doubt the crown jewels of Cambridge gardens are the extensive and world renowned University Botanical Gardens.  Our humble Roof Terrace pales in comparison to their age, size and the seriousness of their purpose.
Botanical Gardens
Unlike a public park designed for recreation and entertainment, a quality Botanical Garden is better thought of as an open air museum for the botanical sciences.  Designed as much for research and education purposes as for preservation and display.
As befits an institution so closely associated with Charles Darwin, the Cambridge University Botanical Gardens is one of the oldest and finest in the world.  It was established in 1846 as a teaching resource for University students.  A role it continues to fulfil to this day, though it is now also open to the general public.  Plants from every biome on the planet can be found there, from tropical orchids to desert cacti, giant redwoods and boreal pines.
The primary structural element of the gardens, the bones around which the smaller specimens were grown, is the truly exceptional tree collection.  A number of these have achieved champion status for being the finest specimens in the country.  And they display an extraordinary variety in scale, in flower, leaf or needle shape, and in bark colour and texture.
Of particular note is an old avenue of pine trees of the same species but radically different morphology – their branch and leaf structure.  They were cultivated from specimens found all over Europe from the frigid Norwegian coast to the balmy Mediterranean shores.  Rarely if ever can one view such strikingly different growth patterns standing side by side for all the world to see.  Like so much else in the gardens, it really brings the complexity and mystery of the natural world home.