---
Christmas is finally upon us.  Not the overly long Christmas Season.  Not the extended slew of Christmas Parties happening left, right and centre this time of year.  But Christmas itself.  Followed swiftly by the New Year.  We at the Varsity Hotel Cambridge stand ready to help you celebrate these ever enjoyable holidays.
A Family Christmas?
For a great many of us, Christmas Day itself is a time for family.  The gathering of family members from across the country and beyond.  The exchange of presents, and a time to feast.  Though every household does things differently, the highlight is often a grand roast dinner:
The centrepiece is typically a whole roast turkey.  Or perhaps just a turkey crown or goose instead.  Plus a huge honey-glazed roasted ham.  Accompanied by all sorts of vegetables, from roasted potatoes and parsnips, to sprouts, mushrooms, carrots and peas.  All covered with gravy, or perhaps a delicate cranberry sauce.  Then there's Christmas pudding, Christmas cake, cheese and biscuits.  The list goes on and on.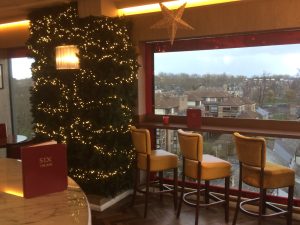 But what happens if producing such a feast is just not possible for you?  Perhaps you lack sufficient culinary skills or a decent kitchen.  Or perhaps you simply lack the time, due to work or travel issues.  Ordinarily you might be in trouble since most restaurants close on Christmas Day and Boxing Day due to their status as Bank Holidays.
But not our Six Panoramic Restaurant.  As the primary restaurant of the Varsity Hotel we are obliged to stay open at the very least for our guests and residents.  So we make the most of it by putting on an extravagant four course feasting menu.  Because why not?  Though due to it's complexity we must restrict service to bookings only.
The New Year
It often seems as though our hangovers from the extended Christmas celebrations are only just starting to clear up properly before New Year's Eve stokes it all over again.  But while many of us deem Christmas itself to be a time for family, New Year's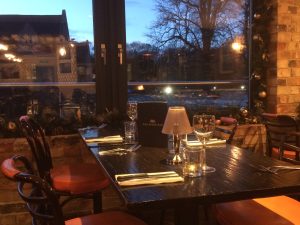 Eve in particular is definitely a night for going out with friends.
So we tend to face the opposite problem.  For Christmas Day, just finding an open venue is a challenge.  But for New Year's Eve it's more a question of selecting from so many choices.  As a result many opt to simply move from one venue to the next during the night.
But if you'd rather stay snug and feast then we have options for you.  Our River Bar Steakhouse is particularly snug this time of year and will be offering a delectable New Year's Eve Menu for your perusal.  And Six is ever reliable as the place to be.  Either way we look forward to seeing you again soon.