---
Winter is now upon us, which can mean only one thing – Christmas is coming.  Whether you're looking to visit relatives in Cambridge over the festive season; looking for a quality dining experience on the big day; or for a suitable venue for a Christmas party, at the Varsity Hotel we've got you covered.
The Christmas Season
According to the stories told by the likes of our grandmothers, Christmas was once a minor, family oriented celebration.  And only the second most important religious festival of the Christian calendar.  Most activities associated with it contained a significant religious aspect to them.  And Christmas decorations were typically up for only the twelve days of Christmas themselves – no more.
Hard to imagine that now.  With Halloween and Bonfire Night over, Christmas decorations are going up all across the country.  Perhaps eight whole weeks before the main event itself begins.  In fact, it's fair to say that Christmas will dominate the next two months – fully 1/6 of the year, every year.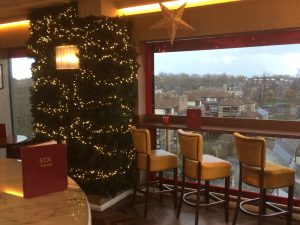 There will be holly and mistletoe; Christmas trees and crackers; presents to be bought for and graciously received from distant relatives.  And there will be Christmas parties.  Many Christmas parties.  Likely every group, society or organisation you are aware of will have one of their own.  And you may even be called upon to arrange one.
Don't panic!
Christmas Parties
At the Varsity Hotel we understand that arranging a party for work or another organisation can be a most awkward and stressful experience even without the biting cold.  So we're here to make it as easy and smooth for you as possible.  Both in the build up and on the day itself.  As well as to make your party satisfying and memorable.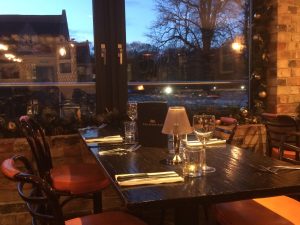 Our experienced sales team are always happy to show off our Six Panoramic Restaurant and our River Bar Steakhouse with its associated function room.  Though at this time of year it is always wise to make a viewing appointment to ensure that our team can give you the time and attention you require, and answer any questions or requests you may have.
To make things easier for all concerned we've taken the liberty of devising two separate Christmas Party menus for our two venues.  You can find the Six menu here and the River Bar menu here.
Don't hesitate to contact our sales team for all enquiries.  And remember: our venues are available for hire year round.  They might be just what you're looking for for that conference coming up in a few months.  Or that training week in the Spring you have on your to-do list.