---
Well not exactly.  We at the Varsity Hotel Cambridge had planned to bring you some lovely seasonal menus in our River Bar Steakhouse and our Six Panoramic Brasserie this Easter.  However, since both venues are currently closed for obvious reasons, Easter is cancelled for us.  But it doesn't have to be for you.  Time to have a closer look at some Easter traditions which will be untroubled by a state of lockdown.
Bunnies and Eggs
Strange as it might sound to modern ears, Easter originally had little to do with brightly coloured eggs and bunnies.  Our secular world tends to forget that it isn't just a religious festival.  Instead it is the most important religious festival of the Christian year.  Christmas, for all its weeks long domination of the modern calendar, comes a distant second to Easter.
Why?  Because the few days of Easter sum up the life and teachings of Jesus.  His life, choices and sacrifices.  A final meal with his disciples.  A choice not to flee the Roman authorities.  His arrest, trial and execution by crucifixion.  His burial and resurrection.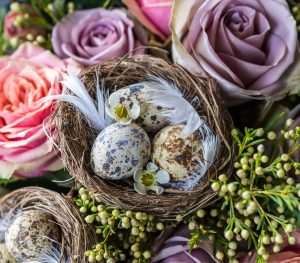 Now this story may convey a powerful spiritual message.  But you can see how it would be hard to evoke enthusiasm for it in little children.  So over time other Easter traditions arose.  Probably in equal part to teach children through metaphor, and to keep them happy.  Some things never change.
Brightly coloured eggs will always catch a child's eye.  And bunnies their hearts.  Symbols of growth and rebirth.  That even the darkest of times will pass, and we will be able to go outside again.  And when you make them out of chocolate it really does become a reminder of the good times.
Easter Indoors
While many of our more typical outdoor Easter pursuits just aren't possible this year, there are plenty of indoor pursuits we can still enjoy.
Like egg hunts.  Either by hiding lots of small chocolate eggs around the house and challenging our little ones to find them.  Or by leaving a trail of clues to send them scurrying up and down and around to finally find a lovely chocolate bunny.
Or Easter themed baking.  For many of us an Easter highlight of our childhood was the hot cross bun.  These slightly sweet and spiced fruit buns were always such a delicacy.  Made all the more special since this was the only time of year they were ever made.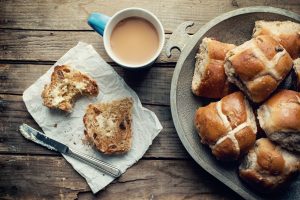 We were planning to make some for you ourselves in our Six Panoramic Brasserie.  Serve them with bacon and smashed avocado; chocolate and cream; or even just butter.  As you like it.
But just because we can't make them for you this year doesn't mean you have to go without.  How about trying your own hand at them?  Here's a couple of different recipes for you to try.  Happy baking!  See you on the other side.