---
We're into October now which is a big deal in Cambridge. It means that the summer is officially over. It means that the students have returned in force. And especially after the last few years of limited boisterousness, we at the Varsity Hotel Cambridge are happy to welcome them back again.
Changing the Seasons
It is often said that a change in the season is a gradual affair. The days slowly get shorter. The nights a little colder. There's never a single moment when suddenly it's winter where the week before it was autumn. Or if there is it's merely a passing weather front and not a reliable calendar trend.
But in Cambridge when the summer ends, it is really clear and obvious. Because in Cambridge summer is when the students are not here. And this week is when they come back in force. This week the population of the city rises by 10% practically overnight. And since many of the Colleges are located right in the city centre, anyone in that city centre may feel suddenly overwhelmed by the influx.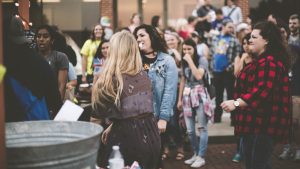 Now for students returning for their 2nd, 3rd or even 4th years of study the pattern is simple and familiar. Meeting up with old friends and getting settled back into a life they already understand. But for the Freshers it's a different matter altogether. They should all have come to Cambridge before for their interview if nothing else, but they don't know the city or anyone in it.
Freshers' Week
This is understandable, and can happen to anyone moving to a new town. You have to start from scratch. But for a great number of these young men and women this is also the first time they've ever lived away from the family home they grew up in. And they're now suddenly thrust into an unfamiliar setting and surrounded by strangers. True, they may well forge friendships which will last a lifetime among their new peers. But that hasn't happened yet.
The University and the Colleges take this issue seriously and try to do everything possible to ease new arrivals into their new lives. During Freshers week there are all sorts of getting-to-know-you group activities organised. And each Fresher is assigned a "College Mum" (or dad) to take them under their wing and show them the ropes.
But the most obvious event of all is the Freshers' Fair itself. Held on Tuesday October 3rd and Wednesday October 4th on Parker's Piece. There are literally hundreds of stalls for the Freshers to peruse. From University clubs or societies of every description to local businesses keen to attract new customers. Naturally enough, the Varsity Hotel has a stall there too. And though we are happy to welcome the students themselves, we fully appreciate that our services are more likely to be better suited to their parents.
Nevertheless, for anyone visiting Cambridge over the next few weeks a warning is in order. There will likely be large groups of somewhat clueless students roaming the narrow streets. Not because there's anything wrong with them. But simply because they have yet to make the friends which will allow them to break into smaller groups. Be kind, and give them time.