---
Even the most casual of visitors will tell you that Cambridge is just plain different. Full of quirky energy and strange occurrences. This is never so apparent as during the legendary May Week. In full madcap Cambridge tradition this "week" of Bumps, May Balls and Garden Parties takes place over the course of ten days in the middle of June.
Whatever event you plan to attend during May Week, the Varsity Hotel Cambridge would serve as an excellent base.
May Bumps
Usually when people think of Cambridge and rowing they think of the Boat Race against Oxford on the Thames in London. Though televised and highly publicised, only a bare handful of athletes actually take part. Instead it is the Bumps which are the really big races. Over a third of the university's student body actually competes in the May Bumps.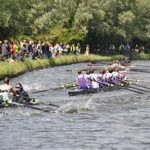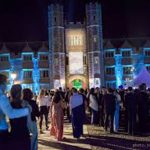 The river Cam is too narrow and winding to accommodate traditional side-by-side Regatta style racing. So an alternative racing method was developed: seventeen boats (per division) are arrayed in a line, each separated by a gap of one-and-a-half boat lengths. At the sound of a cannon they all set off with the intent of smashing into ("bumping") the boat in front of them before they are themselves bumped from behind.
The top divisions play host to teams of elite athletes striving earnestly to crash hugely expensive sporting equipment into each other. Whereas in the lower divisions, where the skill level is also lower but the enthusiasm still high, the river equivalent of eight car motorway pileups can occur, as boats mount banks and each other.
The May Bumps last for several hours per day over four full days (Wednesday June 13th to Saturday June 16th) and is a sight like no other. Located on the riverside not far upstream from the College Boathouses, the Varsity Hotel is an excellent base from which to watch the Bumps.
May Balls
Once the sporting carnage is complete and all exams long since finished, the serious business of partying begins. Each of the thirty or so Colleges of the University puts on some kind of event in the week following Bumps. These range from genteel Garden Parties to full scale all night long May Balls. These can be sweet and intimate or huge and showy. Black tie, white tie or no tie.
The biggest May Balls traditionally begin with early evening pre-Ball cocktails at venues such as our Six Panoramic Bar or (weather permitting) our Roof Terrace. Then come the main events, full of exotic food, drink and entertainment, culminating in firework displays calculated to show off their wealth and prestige. Lasting until perhaps 6am, there's plenty of time to take in all the sights.
Though you may need a full day off to recover afterwards.