---
As this lockdown continues in the city of Cambridge, we find ourselves with far more time on our hands than anyone expected.  At the Varsity Hotel we've been looking back into our history to see if this sort of thing has happened before, and what was the result.
Previous Lockdowns
Cambridge University is currently closed due to the recent outbreak.  At the time this happened it was criticised by some as being a knee jerk reaction.  Premature, and perhaps even heartless given that students were expected to vacate the city as soon as possible.  A difficult and potentially very expensive proposition for overseas students.
But in retrospect it seems like a wise, well thought out strategy.  After all, only a couple of days later our own River Bar and Six Panoramic Restaurant closed by order of the government.  And a couple of days after that the whole country went into a lockdown that shows little sign of ending anytime soon.  Better to send everyone home while they could still get there with relative ease.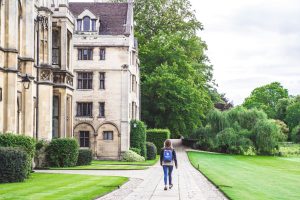 The irony is that this sort of thing used to happen all the time in the past and people understood what they had to do, and went ahead and did it.  Governments didn't have to tell people to self-isolate.  People realised the danger themselves and acted appropriately.  The 17th century version of panic wasn't the stockpiling of toilet paper.  It was depopulating the cities and running for the countryside.  And one such incident changed the world forever.
Sir Isaac Newton
In 1665 plague struck London, killing perhaps a quarter of the population over the next 18 months.  So when a single case was reported in the Cambridge area that year, everyone knew how serious it was.  The government didn't need to make any pronouncements.  The University shut down and all the students and fellows who could, went home – preferably to small, isolated communities in the countryside to wait it out.  One such man was the 23 year old Isaac Newton.
He spent over a year back home on the farm, giving him plenty of time to work and think.  1666 is noted as his annus mirabilis, the year he made revolutionary discoveries in fields such as calculus, motion, optics and gravitation.  It wasn't all completed under lockdown, of course.  He had started pondering these great questions beforehand and would continue long after he returned to Cambridge.
But a period of isolation from the outside world gave the man the freedom to be himself.  To express himself.  To devote his time to what he felt was interesting, regardless that everyone else probably told him he was mad and/or wasting his time.  And what he did changed the world forever.
In times like these it is heartening to remember that incredible progress can be made in spite of incredible adversity.