---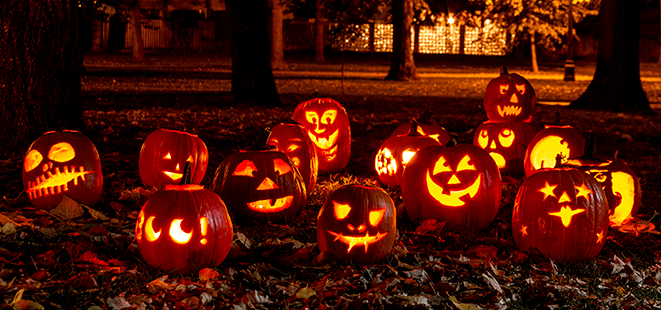 Halloween is fast approaching, which means that it's nearly time to head on down to your local costume shop and kit yourself out with red face paint, tear up your favourite white shirt and start the transformation into becoming a ghastly ghoul for the evening as you chaperone your young ones around the neighbourhood!
The thing is, it can often be hard to remember sometimes, but Halloween isn't just for the kids! Halloween is a great time to get out the house for the evening and see Cambridge from a completely different light. We've compiled a list of 5 fun things to do for adults in Cambridge this year.
Costume Competition at Six Restaurant & River Bar Steakhouse
Are you going to be the bell of the ball this Halloween? This year, Six Panoramic Bar and Restaurant in Cambridge and River Bar Steakhouse are hosting a fancy dress Halloween dining extravaganza! Dine with River Bar or Six on Saturday 28th October in your ghostly glad rags and you'll have a chance at celebrating being 'best dressed' with a bottle of House Taittinger Champagne. If you're the lucky winner, the River Bar and Six teams will also share your victory on their social media channels!
Book your table online today or call 01223 30 80 30 for Six, 01223 30 70 30 for River Bar.
Lockhouse Escape Rooms, Regent Street
If you haven't tried an escape room before… you're missing out! An escape room is a great alternative night out for adults on Halloween. The experience on Regent Street involves you and your friends being locked in a room alongside some of your worst fears… and you only have one hour to find your way out!
Usually Lockhouse hosts 4 escape rooms of various themes from Armageddon to an Egyptian Tomb. Over the course of Halloween Horror Week from 30th October to 5th November there will be Halloween twists. And if you manage to escape, there's the opportunity for you to have your tarot cards read and other ghostly themed activities.
Visit Lockhouse Escape Games, for booking details.
Horror at Histon Woods
Brave enough to visit the woods after dark?
This one's not just for adults, but it's a great way to spend your evening. On Saturday, 28th October from 4pm-7pm Histon Woods will be transformed into a paradise for ghouls. There is a whole host of fun fuelled activities to be had at the event which runs until after dusk… So remember to bring a torch! Aside from that, sit around the campfire roasting marshmallows, drinking hot chocolate and listening to scary tales from a professional storyteller.
For more information head to: tribalbushcraft.co.uk
Wimpole Murder Mystery
Embrace a spooky alter ego this Halloween and head to Wimpole Hall for it's annual murder mystery night. This truly is a great alternative night to have around Halloween time! Bring along your partner in crime, and try to piece together the gaps in this Halloween themed mystery. And enjoy a 3 course meal as a part of the fun.
To book your tickets for the event, which takes place on Friday, October 27 from 6.30pm to 10.30pm, head to nationaltrust.org.uk
Halloween Film Festival, Grantchester
Celebrate Halloween, outdoor cinema style. Spooky films, toasted marshmallows around an open fire and pumpkin carving in the beautiful surroundings of the Red Lion at Grantchester. The Halloween film festival weekend in Grantchester takes place from 27th to 29th October.
Films include: Hotel Transylvania 2 (October 27), Blade Runner (October 28) and Beetlejuice (October 29).
Stay in the City this Halloween
With all the happenings around Cambridgeshire this Halloween, where better to stay than in the central hub of the ghostly going ons. Book your stay at the Varsity Boutique Hotel in Cambridge city centre this Halloween by visiting the online booking form or calling 01223 30 60 30