---
There's only one word that everyone is talking about this weekend.  One word that will dominate the history books. Coronation.  And at the Varsity Hotel Cambridge we too will be celebrating.
A Rare Pageant
Saturday May 6th 2023 will see the coronation of King Charles III.  An event which will be watched by perhaps tens of millions around the world.  Which does beg the question, why?  Why are so many people from so many cultures so hyped to see this event?  Especially given that many of these countries have been at odds with the UK in the past.
There are many answers to this, but let's start with scarcity.  Seeing your favourite band play live may seem like a big deal to you.  But the truth is that they will play thousands of gigs over many years, hardly making it a rare occurrence.  By comparison, the coronation of a British monarch is now a once-in-a-lifetime event.  The last time this occurred was in 1953.  A time before 95% of the world's current population were born.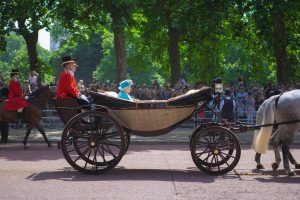 That coronation stood out for being the first widely viewed coronation in history, owing to the very recent mass deployment of a brand new invention – the television.  Yet it was also not such a rarity.  While the world would have to wait 70 years for a repeat, the 70 years prior to the coronation of Queen Elizabeth II saw three.  And that itself was an incredibly low number by historical standards.
An Historical Oddity
Another reason so many care is that the very concept of monarchy is now also so rare.  Go back a couple centuries and monarchy was the normal mode of government, regardless of the actual title.  It must have seemed like there was a coronation somewhere in the world every year.  Now, only a handful of countries have a monarch as the Head of State.  And almost all are now constitutional monarchs.  Making a coronation of any monarch a rarity.
Then there is the sheer pomp and ceremony of a coronation.  Taking the most elaborate and ornate of feudal pageants and transplanting them into the modern era.  Hollywood with its gowns and red carpets has nothing on the sheer intricacy of a British coronation.  There are dozens of tiny little actions taken, gestures made or objects present which are references to events of the past.  Books have been written describing the complexity of such a ceremony.
This particular coronation also has a special link back to Cambridge.  For you see the future King Charles III studied at Cambridge, beginning his tuition at Trinity College back in 1967.  After graduation he maintained a close relationship with the University, becoming a founding trustee of the Cambridge Trust in 1980 – an organisation funding scholarships to the University from across the world.  And over the decades he has continued to visit and support the grand old institution.
Join us at the Varsity Hotel to celebrate this truly historic event.