---
Early July has a lot of meanings.  For some it is the joy of release – school is over and the summer holidays are in full swing.  For others, exam results become known and futures can be planned accordingly.  For us at the Varsity Hotel it means that our busiest season is upon us – advanced bookings are recommended!  But to a few it has just one meaning – Wimbledon.
Lawn Tennis
The Championships, Wimbledon, is perhaps the most prestigious tennis tournament in the world.  Although devotees of any of the other three Grand Slam tournaments might debate this.  But not in doubt is that it is the oldest lawn tennis tournament in the world, being first held in 1877.
At first glance this claim might seem somewhat dubious.  After all, the annual Boat Race between Oxford and Cambridge was first held in 1829, almost 50 years earlier.  And Tennis is way more popular than Rowing.  So surely tennis tournaments must have existed earlier than this?
Actually…no.  Because lawn tennis, the full name of the sport we know today simply as "tennis" was only invented in 1859, and it took a while to catch on.  True, an earlier sport known as "court tennis" had existed for centuries prior to this.  But this was a game of royalty, played indoors in specially built courts only the aristocracy could afford to construct or own.
By contrast, lawn tennis was to be played outdoors on much simpler courts with a streamlined ruleset.  It was an attempt to bring this game of royalty into the public domain, creating a game that all could enjoy.  And the tournament now known simply as Wimbledon was its first (and perhaps greatest) standard bearer and marketing ploy rolled into one.
Wimbledon
Victorian Era Britain (19th century) created and helped to spread a lot of sports.  In fact, they practically invented the modern concept of Sport as being something for the masses to both spectate and compete in.  True the classical Greco-Roman civilisations had their chariot races, gladiatorial bouts and the original Olympic Games.  But after their decline, sport for the masses almost disappeared.  Tournaments became something only the wealthy competed in.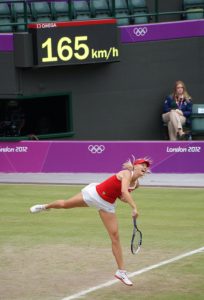 But Victorian Britain had a healthy obsession with playing of games.  And also codifying the rules of games to make them as fair and impartial as possible.  Football, Rugby, Cricket, (field) Hockey, Snooker, and both Lawn and Table Tennis emerged during this period.  This prolific creative spirit and enthusiasm for playing and exporting sports may be considered commendable.  Though in retrospect it might have been wiser for this tiny island kingdom to specialise in just a couple of sports.  Nowadays we play so many different ones we're not very good at any of them.  Though this too is an old British tradition – that winning is not as important as taking part.
However, should you disagree with this philosophy and wish to elevate your skills and fitness levels, we stand ready to assist you.  Our Glassworks Gym and Spa boasts a fully equipped modern gym open to all members and Varsity Hotel residents.  Several communal classes in multiple disciplines are run daily.  And for the more individual touch our personal trainers and sports physios stand ready to assist you.