---
We know.  You missed us.  We missed you too.  But we'll be open again very soon, and this time it's for Christmas.  For us at the Varsity Hotel Cambridge, Christmas isn't just a day but a season of its own.  A season of merriment, traditional meals and silly hats.  And whether you're joining us on the day itself or anytime during December, we have plenty of merriment and Christmas menu options for you to choose from.  And plenty of silly hats.
Christmas is Coming
This year has been different than most in that Christmas has almost crept up upon us.  Usually the shops fill with Christmas themed items as soon as Halloween is over.  It can mean that just making it to Christmas can be such a marathon that by the time it finally comes we're already over it.  But not this year.  This year we've made it into December without the Christmas season really getting going.
But that's about to change.  People are starting to put up their Christmas decorations.  And they're starting to think about doing some Christmas shopping.  For some of us, starting to think about Christmas only at the start of December counts as very late in the season.  To others, ridiculously early.  Each to their own.
While this Christmas season is likely to be a little different than usual, it is also an opportunity.  An opportunity to experiment with new ways of celebrating that we might not consider during an average year.  Some might object to altering Christmas traditions in this way.  But the Christmas traditions of every family exist because one year we tried something different, and it turned out to be a good idea.
Christmas at the Varsity
For ourselves, we're ready to help you celebrate Christmas.  Perhaps as part of a long held tradition you maintain.  Or perhaps an experimental new idea you're happy to try out this year.  Either way, it's always nice to eat out once in a while.
Our Six Panoramic Restaurant will soon be swinging back into full action, tastefully decorated for the festive season.  Our old favourites of Afternoon Tea and our excellent cocktail bar will be back.  But this time of year we also offer a special Christmas Party Menu.  Plenty of choice and reasonably priced, our party menu is suitable for any size of gathering.  Six will also continue our own tradition of a lovely feasting menu on Christmas Day itself.  If you're not too keen on cooking on the big day itself then book soon – spaces are limited and demand is high on the big day!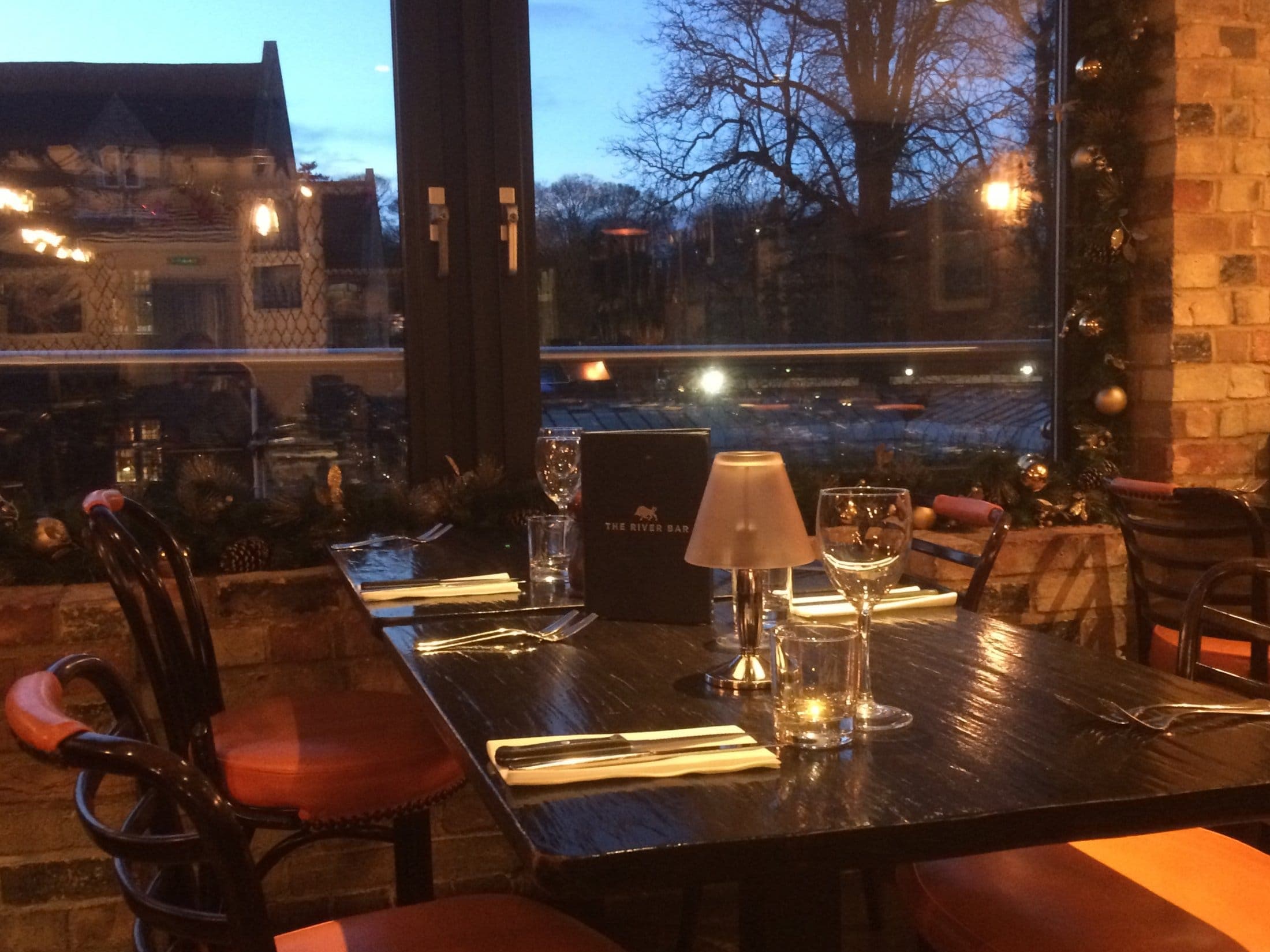 However, while Six rightly gets a lot of love all year round, it is this time of year that our River Bar Steakhouse really comes into its own.  The compact warmth of the venue is so appealing during the cold winter months.  Times when you want to be snug and cosy above all.  Our River Bar Christmas Menu is especially warming and filling.
Whichever venue suits you best, we look forward to welcoming you this festive season.