---
Do you ever get that feeling of déjà vu?  That you're sure that you've seen this very thing happen before somewhere?  But that you can't quite put your finger on when or where?  Well that's not the case this time.  We've all been here before.  Enough times that we're actually getting a pretty good routine for it.  So, now that it is official, we at the Varsity Hotel Cambridge will be happy to welcome you back from April 12th.
An Outdoor Reopening
However, though we've all been here before, our reopening is going to be a little different this time around.  Casting our minds back to last summer, the start of July saw all of our various departments reopen simultaneously.  The gorgeous summer sunshine demanded it.  And Six and the Roof Terrace in particular were immediately popular once again.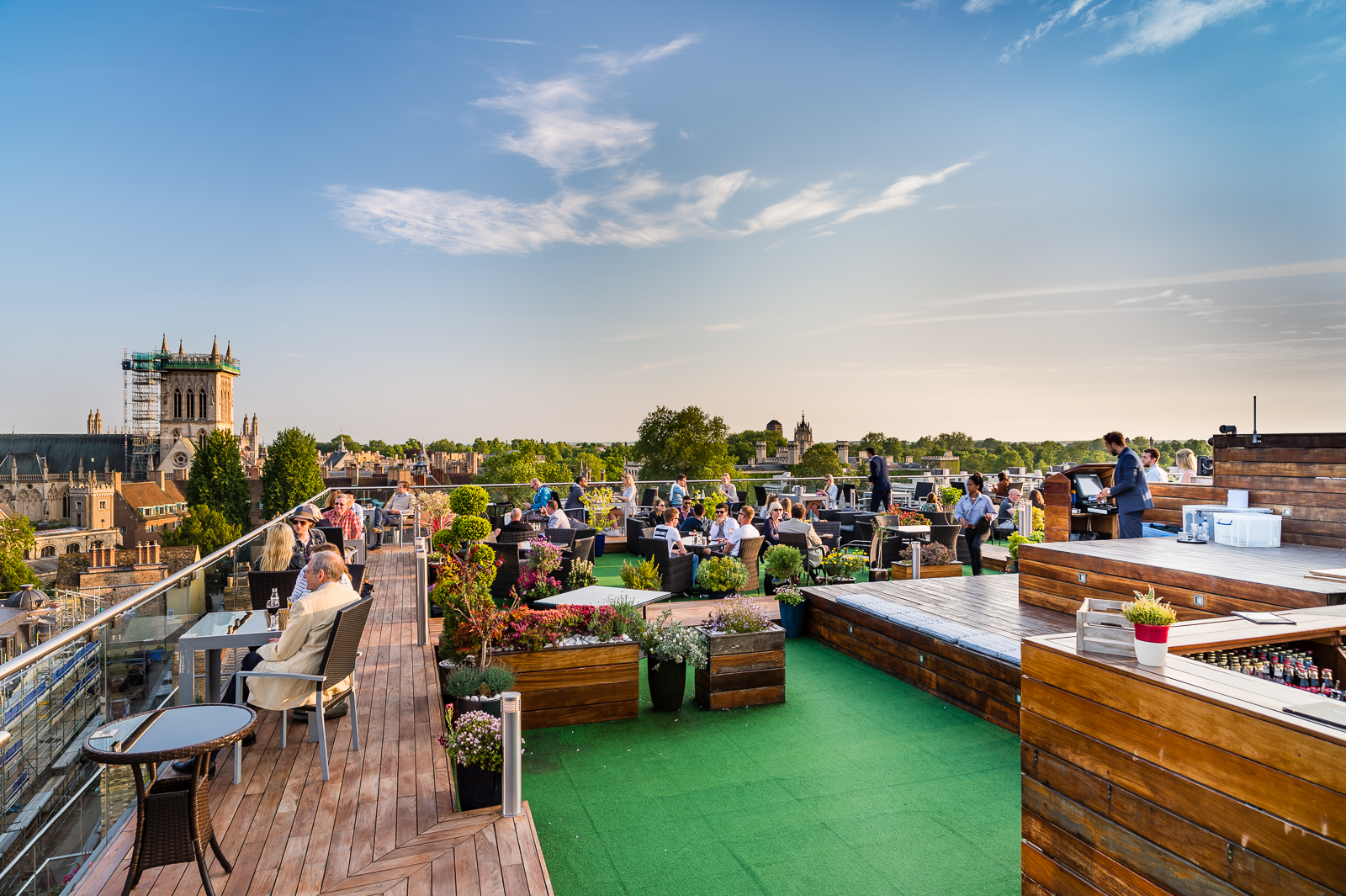 This is going to be different this time around due to the staggered nature of Government guidelines for reopening.  From April 12th all outdoor hospitality venues, gyms, hairdressers and non-essential shops will be allowed to reopen.
This means that we're happy to announce the imminent reopening of our ever popular Roof Terrace.  And around about the time we would choose to reopen it in a normal year.  After the hour has changed to allow for increasingly long evenings before the sun goes down.  And as the weather slowly starts to improve towards the summer months.  Though since we're based in England, we have to appreciate that the time of year has little influence on the actual weather.
We're also happy to announce that our Glassworks Gym and Spa will also be reopening.  Which will surely bring a sigh of relief to all of us who desperately need a haircut.  Naturally we will reopen in strict accordance with Government health and safety guidelines.  And by following them will enable us offer all our usual services with the exception of group exercise classes.
More to Come Soon
Of course there is still more to come.  The next phase of reopening is due on May 17th, though there is always the potential that this may be slightly delayed.  Whenever it does occur it will allow for the reopening of both hotels and indoor hospitality venues.
Though the Varsity Hotel itself will remain closed for now, we haven't been idle.  A period of enforced closure such as this has allowed us to make repairs and renovations to our hotel rooms and other interior spaces.  Since these take time and make a mess it is difficult to achieve during regular opening hours.  But we hope that this enforced closure will prove a blessing in disguise.  And we expect our regular returning guests to be pleasantly surprised by the changes, upgrades and renovations we've made.
And of course we'll also be looking forward to welcoming you back into our interior hospitality venues as well.  In particular our River Bar Steakhouse has seen a lot of love and attention during this time of closure.  Just a few more weeks and you'll be able to enjoy our juicy tomahawk steaks once more!
See you soon.